Bridgewater
If you have any questions, please feel free to contact us at [email protected] or 715-344-7499
Bridgewater is Central Wisconsin's premier new development, located along the south shore of the Wisconsin River on the Biron Flowage. The development is conveniently located in the Village of Biron, just 10 minutes west of Plover and 5 minutes east of Wisconsin Rapids. The Biron Flowage consists of approximately 2000 acres and 14 miles of navigable waterway between the Biron and Whiting dams. The Biron Flowage offers excellent opportunities for pleasure boating, water skiing, fishing, nature viewing and other recreational water sport activities. Bridgewater is served by the Village of Biron municipal water and sanitary sewer system (no private well or septic system). High speed internet is available in the development through Solarus, a local provider.
Bridgewater offers a unique opportunity for homeowners to purchase waterfront or water-access home sites, with an assigned boat slip, to enjoy the Biron Flowage section of the Wisconsin River while still enjoying the convenience of Village of Biron living.
Bridgewater includes several unique property types:
Water view properties with spectacular views of the Biron Flowage and Pleasure Island. (Lots 1-12)
Waterfront properties on the cranberry canal with boat access to the main channel of the Wisconsin River. Each of these exclusive properties includes ownership of the lot's shoreline and allows the property owner to install their own boat dock. (Lots 31-37)
Waterfront lots on the pond including an assigned dock slip on the main channel. (Lots 20-28)
Off-water properties abutting the CWPCo Park or conservancy open spaces. Each of these home sites includes an assigned dock slip on the main channel. (Lots 13-19, 29, 30, 38-43)
Off-water wooded properties with opportunity for Village of Biron boat slip. (Lots 44-48)
Bridgewater includes a 47 acre CWPCo owned Park area; a multipurpose recreational trail for hiking, jogging and bicycling; and, numerous conservancy areas all located in a beautiful setting of wooded property.
Bridgewater includes protective covenants to provide for compatible development throughout the project and for the protection of each homeowner's investment. The property owners will also be co-owners of the Bridgewater Homeowners Association that will own and maintain the common ownership areas of the project including the conservancy areas, docks and parking areas.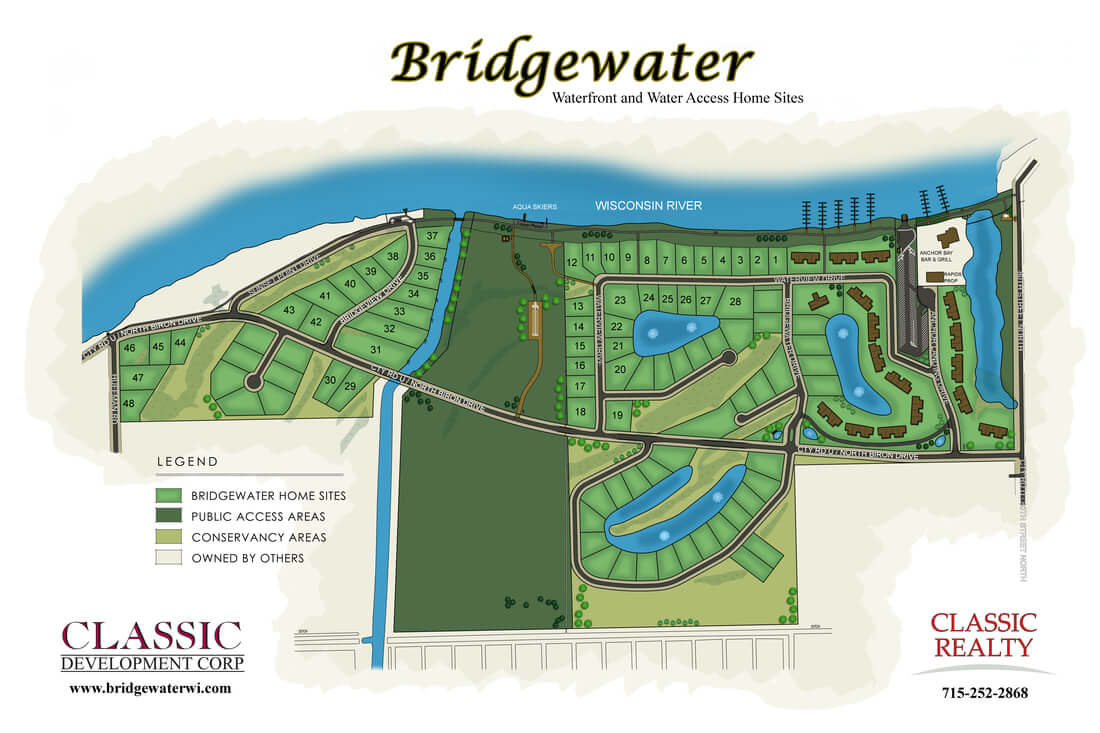 Click here to view larger map.
Homes For Sale: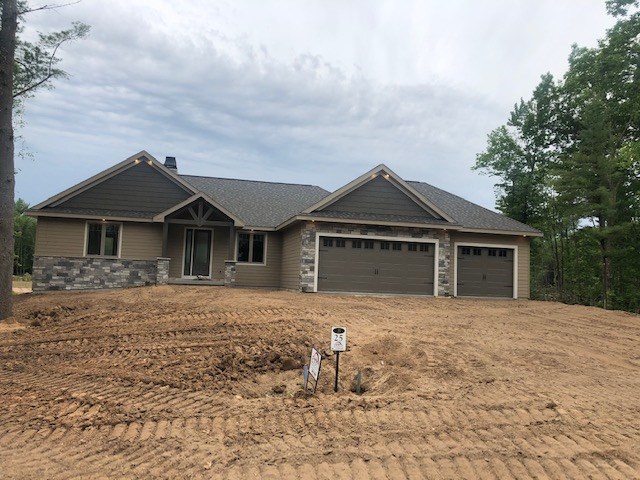 Call for more Information